SOLD
Number 2 Hot Rod
N2HR
PIPER PA-23-250 "G"……………….."THE ULTIMATE AZTEC"
Price:
$389,500.00
SOLD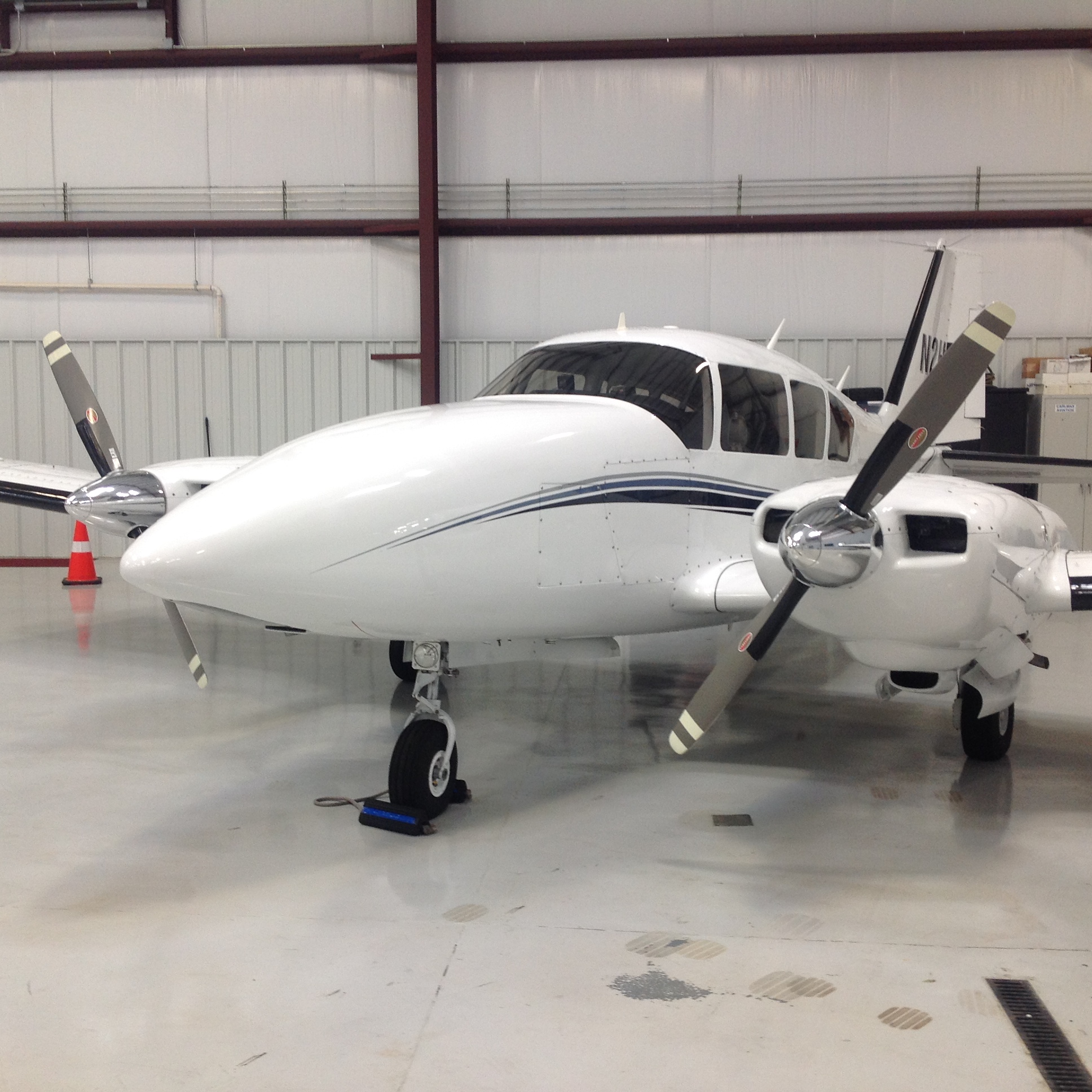 Description:
Yes-I know! Piper only manufactured models up to the "F". But if they did continue the line the "G" model should be like this aircraft.
Scroll down for more pics and information about this "One of a kind very special Aztec"
I am selling this Aztec for the current owner that I sold it to 6 yrs ago. His situation has changed so that he is not utilizing it enough to justify owning it anymore. The aircraft lives in Asheville NC and can be viewed there by appointment.
I purchased the aircraft in 1989 from Midway Airlines and did the restoration and most of the mods in house. I chose this particular aircraft because in my opinion it is the best year model made and this one was low time, had been well maintained and professionally flown all of it's life in a dry climate and had no corrosion.
This is a unique aircraft that can not be duplicated at any cost. I operated an aircraft parts business specializing in PA-23s for 25 years and have parted out over 125 of them. We know all of the issues pertaining to the Aztec line and at the time had a very large comprehensive inventory of parts to utilize for this restoration. This gave us a unique opportunity to build up this very special and unique aircraft.
STCs and modifications
-Sierra Industries R-STOL kit (Robertson)
-Micro Aeroynamics Vortex Generators
-Miller Nacelle tanks
-Metco Air tip tanks
-Carbon fiber quick cowls
-Robertson dual engine driven hydraulic pumps
-One piece speed sloped Miller windscreen
-Thick Apache Modifications smoke tinted side windows
-Safe Flight angle of attack indicator
-Aerox 6 place oxygen with77 Cubic ft composite cylinder
-JPI EDM 760 Graphic engine monitor
-Shadin Digiflow-L fuel management system
-EI digital tachometers
-EI digital Manifold pressure instruments
-EI digital Super clock
-Ray-Jay/Roto-Master turbo normalizer system (Removed-Comes with)
-Gami Turbo-jectors (Removed-Comes with)
-"F" flap/stabilator trim interconnect
-"F" door safety auxilary safety latch
-"F" front seats and tracks
-Super duty Brakes
-N.A.P Alternators
-light weight high torque starter motors
-Piper high capacity truss mounted improved air flow oil cooler kit
-Eagle bladder fuel drains with all new Eagle fuel cells
-Jetglow paint
-Leather interior w/ super sound proofing
-Fuel strainer improvement kit (Navajo style)
-All new illuminated rocker switches
Avionics
-PS engineering PMA 8000B audio panel w/6 place intercom & auto squelch
-Dual Aspen EFD 1000 primary flight displays w/ flight director & HSI functions
-Dual Garmin 430W WAAS Crtified GPS/NAV/COM/GS Receiver/Moving map
-Garmin #2 VOR / LOC / Glide slope indicator
-Bendix RDR 230HP stand alone Color weather radar system
-Garmin GMX 200 Multi function display with IFR chart read option
-Garmin GDL 90 ADSB (traffic/weather data link-overlays map on MFD)
-Dual Garmin GTX327 transponders with separate encoders
-KFC 200 Autopilot
-Avionik Straubing altitude preselect
-Artex ME-406ELT system
-Mid Continent standby electric attitude indicator
-Mid continent standby airspeed indicator
Specs:
| | |
| --- | --- |
| Manufacture year | 1974 |
| Model | PA-23-250 E |
| Serial # | 27-7405342 |
| Total time since new | 4,475 hrs. |
| Time since major OH Lt engine | 444 hrs |
| Time since major OH Rt engine | 444 hrs |
| Time since OH Lt prop | 444 hrs |
| Time since OH Rt prop | 444 hrs |
| Time since new ceramic lined heater | 13 hrs |
| Time since complete restoration | 444 hrs |
Boots and hot props-Certified for known ice when windshield hot plate is installed (included with aircraft)
Performance
| | |
| --- | --- |
| Cruise | 170 Knots/195 MPH (observed) |
| Range at normal cruise | 1700 nautical/1955 statute miles (10 hrs.) |
| Fuel capacity | 244 gallons |
| Stall speed-power on w/full flaps | 37 Knots/48 MPH |
| Stall speed-approach configuration | 47 Knots/59 MPH |
| Minimum control speed-single engine w/25 flaps | 53 Knots/66 MPH |
| Take off ground roll | 640' |
| Landing ground roll | 665' |
E and F Model differences:
-The F models (produced from 1976 to 1981) have an interconnect system that trims the aircraft to compensate for the abrupt pitch up that all other models have when the flaps are extended (and pitch down when retracted). This aircraft has been modified by installation of this system. You can now operate flaps "hands off" and aircraft stays in trim.
-The F models have an extra cabin door safety latch to prevent inadvertant door opening in flight. (Can be worse than losing an engine). This aircraft has been modified by installation of this very important safety feature.
-The early F models have a different stabilator with external counterweights (With Airworthiness Directive calling for repetitive crack inspections). Due to complaints from pilots regarding overly sensitive pitch control the later F models were built incorporating the original and superior tapered stabilators and internal counterweight like this model has.
-The F models have a redesigned wing tip that houses optional fuel bladders that are very expensive and labor intensive to replace. The pre F models are elligible to use the superior Metco Air after market extended fuel wet Hoerner style fiberglass wing tips like this one has installed. (19 gallons more fuel than F with long range option)
-The 1975 E and all F models are 28 volts. This aircraft is the last year model with 14 volts enabling it to be jump started with an automobile if you are operating in a remote location. Bear in mind that this aircraft can fly to and into almost any airport in the world! (2300 mile range with 660' ground roll take off and/or landing capability). 28,000' service ceiling and sea level take off power to 12,000' with turbos installed.
-The 74 E and newer models all have a redesigned instrument panel with the engine instruments across the top of co-pilot side panel. This frees up panel space and allows for full instrumentation on the co-pilot side. All 73 and older models do not have this feature.
-The "F" models have improved crew seats and track system. The seats in this aircraft have been replaced with more comfortable F seats and tracks.
-The F has improved "push to test" landing gear annunciator lights and the flap indicator was relocated from the instrument panel to next to the flap selector handle. This aircraft has been modified to that improved configuration.
-All 1964 and newer Aztecs have a poorly designed engine cowling. It takes hours to remove all of the wing root fairings, # 6 screws inside of wheel wells, disconnect cowl flaps, remove all of the nose bowl screws and fight with the piano hinge pins on the insides of the nose bowls (almost impossible to do without scratching the paint). Most get exhaust burns and have numerous patches where the nose bowl attaches to the top and bottom cowls. These cowls have been modified to be easily removed and reinstalled in minutes with out having to remove screws in wheel well, wing root fairings and fillets, cowl flaps or separate nose bowls.
-All F turbo models and the last 2 year non turbo models used an improved high capacity oil cooler that mounts to the engine mount truss instead of the rear engine baffle. Oil ooling on the earlier models was inadequate and the baffles required constant repairs or replacement. This aircraft has the superior maintenance free high capacity oil cooler kit installed.
-All in all this "G" model incorporates the best of both models and is far superior to both.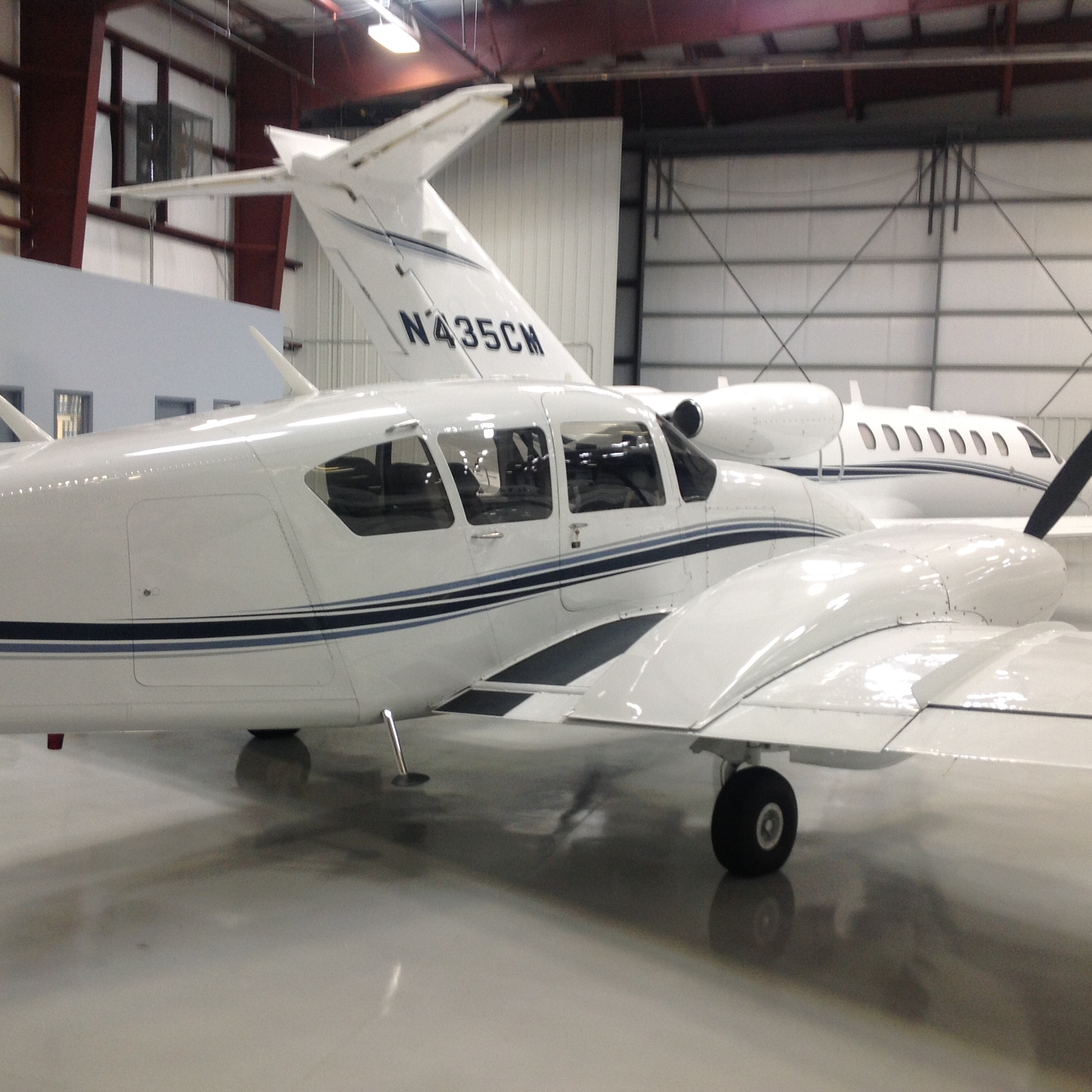 Professionally flown, well maintained and hangared since the restoration. This aircraft gets more ramp compliments than the new Jet with matching paint in the back ground.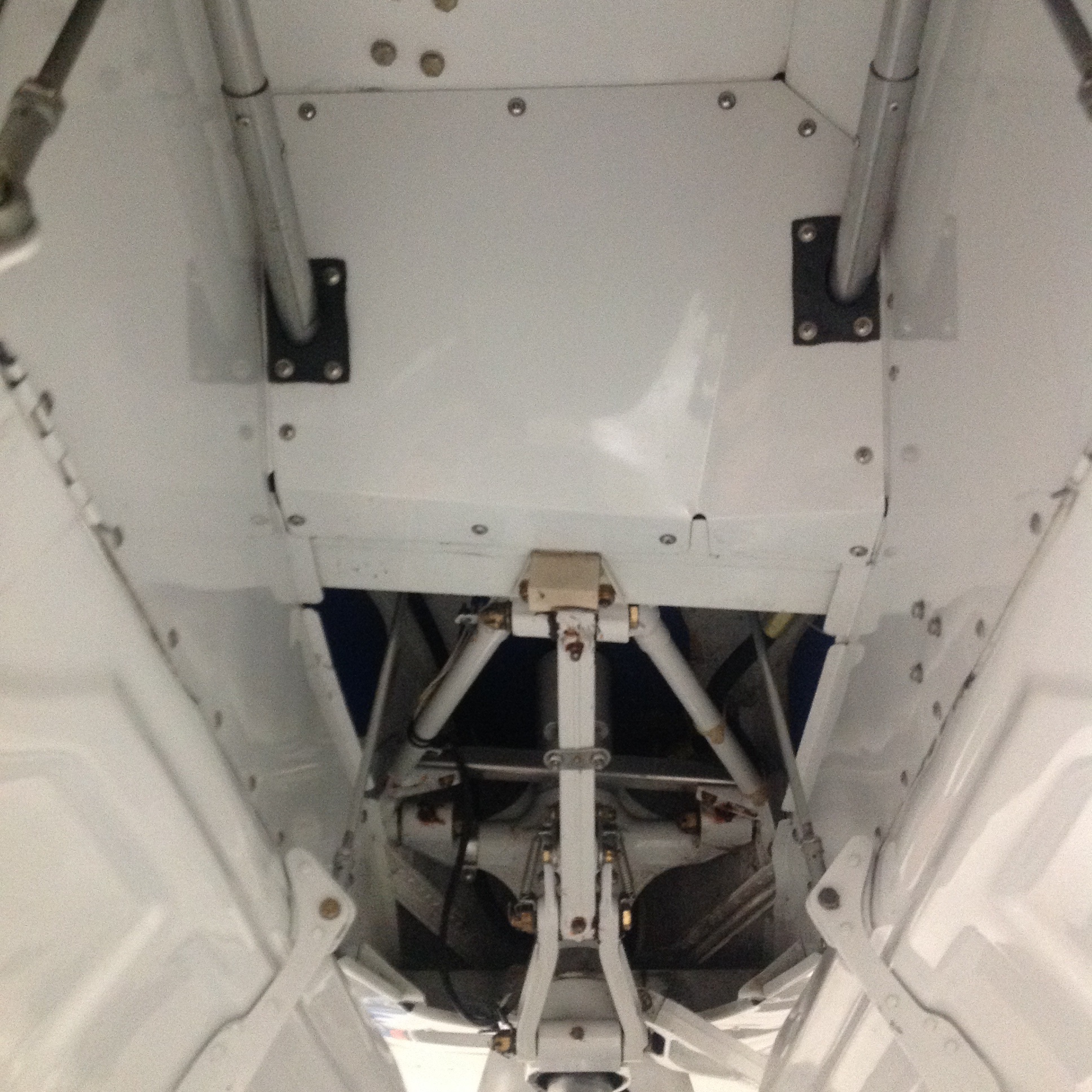 If you ever want to know if an aircraft has been properly restored crawl under it and look up in the wheel wells. Anyone can do a quick paint and interior job. Note the quality paint work through out, all new hardware, ceramic coating, new rubber, new lines/hoses etc. Mechanics and inspectors love it! Even the "A" trusses that support the trunnions and drag braces have been removed, reworked and improved as we have found that almost all crack in the same places. These won't crack again!. The wheel wells on even some of the nicest looking Aztecs will scare you after looking at these. Every nook and cranny in this aircraft is done up to this "better than new standard". This is an aircraft that you wash your hands before working on-not after!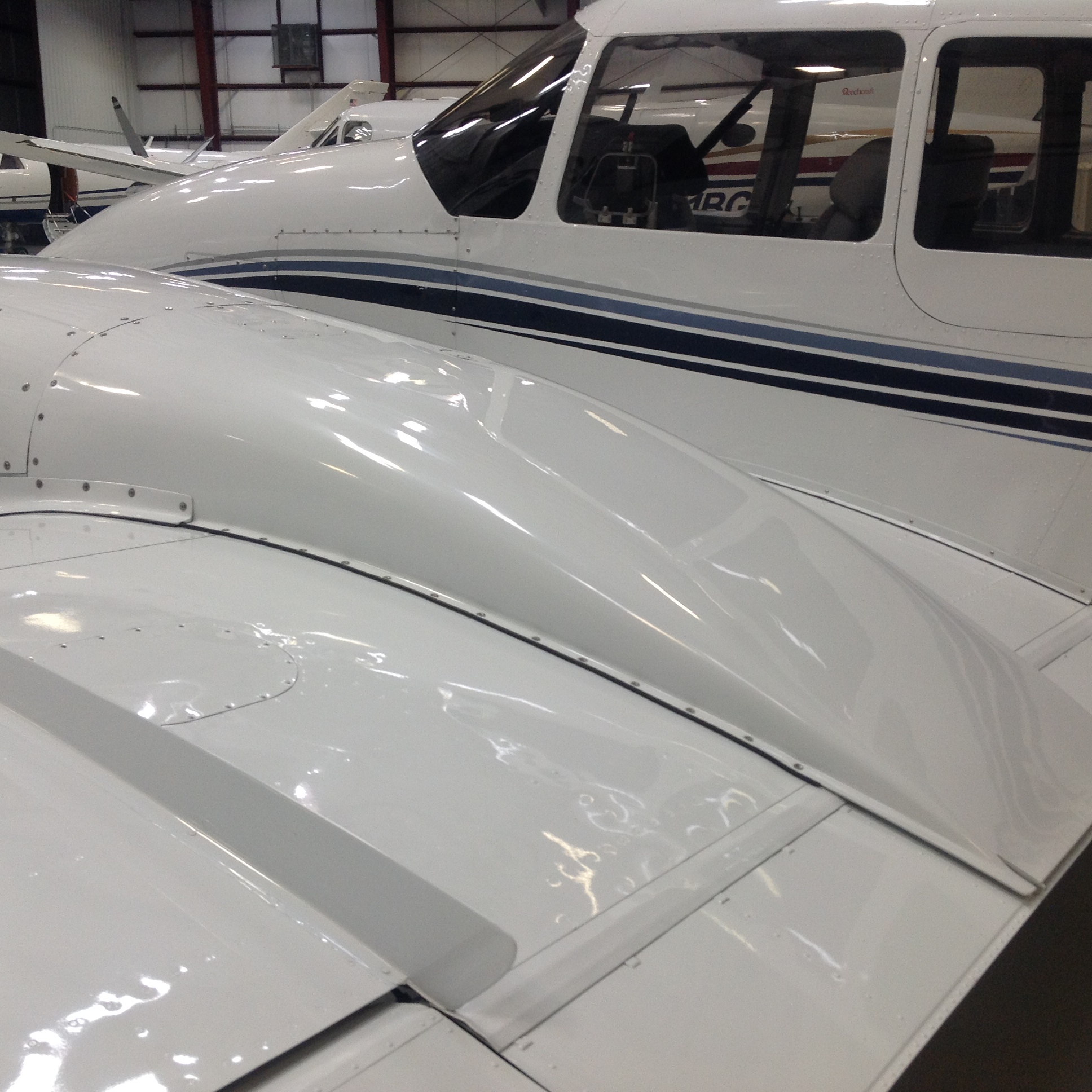 Note the sparkling wet look nearly flawless Jetglo paint with all stainless unpainted hardware (aircraft was painted with all hardware removed and nut plates plugged to prevent dissimilar corrosion). The wing and nacelle root fairings and nacelle tanks all have new anti chaff rubber gap seals. The Robertson flap gap seals have custom fabricated phenolic anti chaff strips installed-Without them they are known to cut into the flap skins). The original aluminum Robertson STOL fences looked home made so remanufactured them using carbon fiber with built in flush riveted flanges instead of crude aluminum pop riveted angle tabs.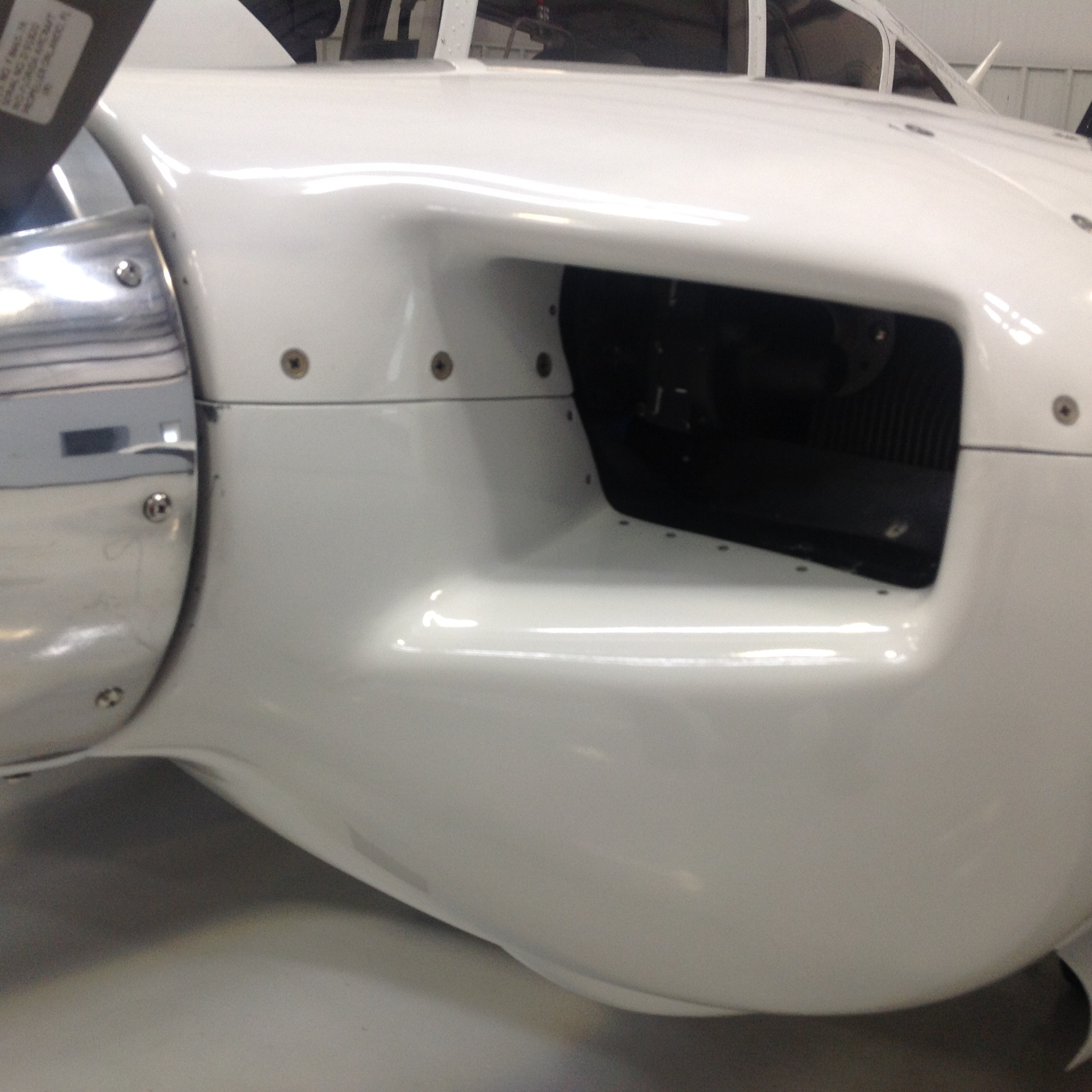 The custom fabricated carbon fiber nose bowls split horizontally instead of vertically and are permanently bonded and faired to top and bottom cowls. They incorporate the late model turbo type larger sized air inlets and are joined together with Navajo style quick cowl studs. They have internal heat shields to protect from the forward exhaust cross over pipes.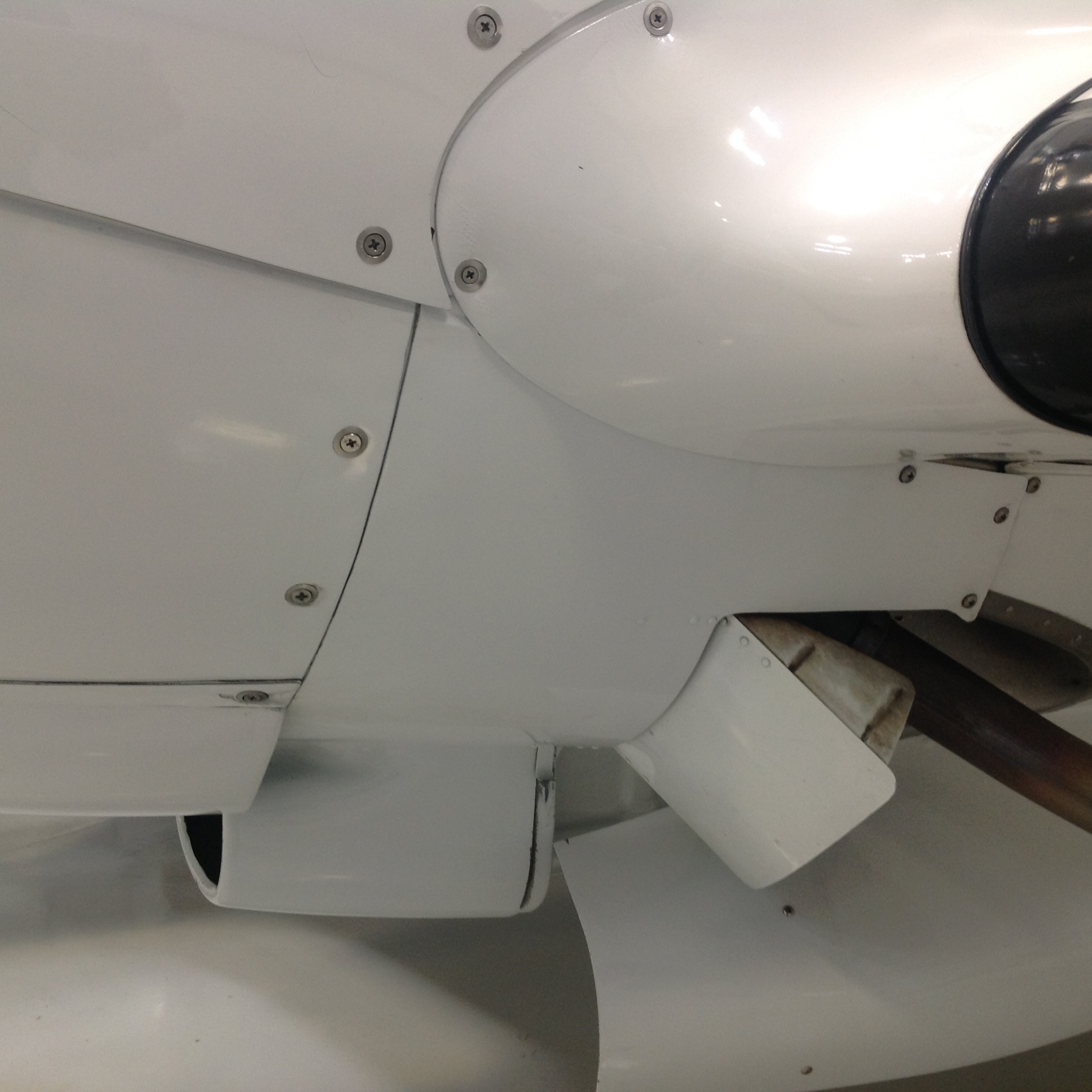 The one piece bottom cowl/nose bowls are held on with camloks. The scoops, aft bottom cowls, cowl flaps and wing root fairings no longer need to be removed to drop the bottom cowl. The cowlings can be removed and reinstalled in minutes by one person vs. hours with two people on the original cowls. This will save thousands in maintenance costs. I will never understand why Piper used the same crappy cowl design for 17 years.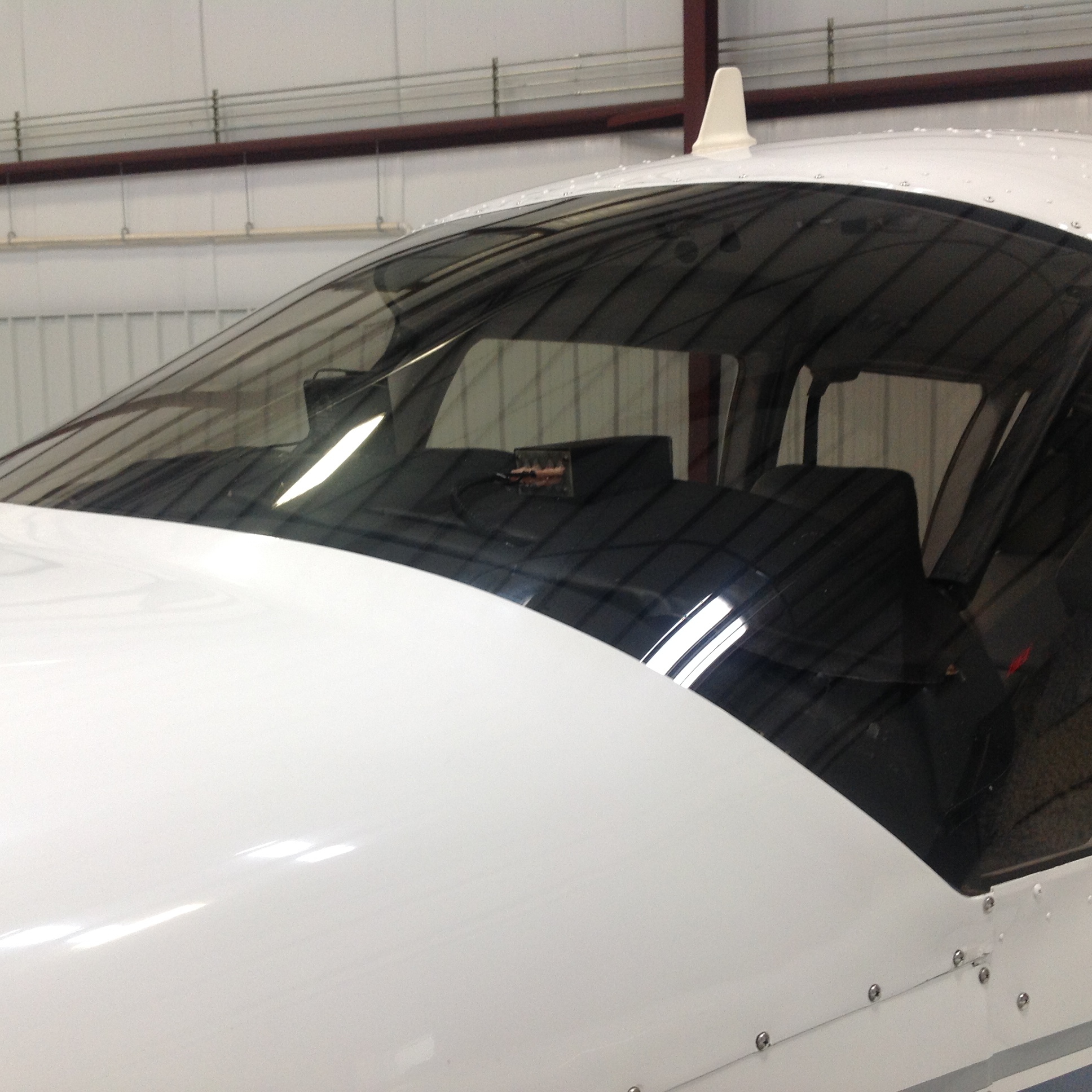 The faired in one piece thick sloped Miller/Apache Mods windshield makes the aircraft look 50 yrs newer and 50 MPH faster.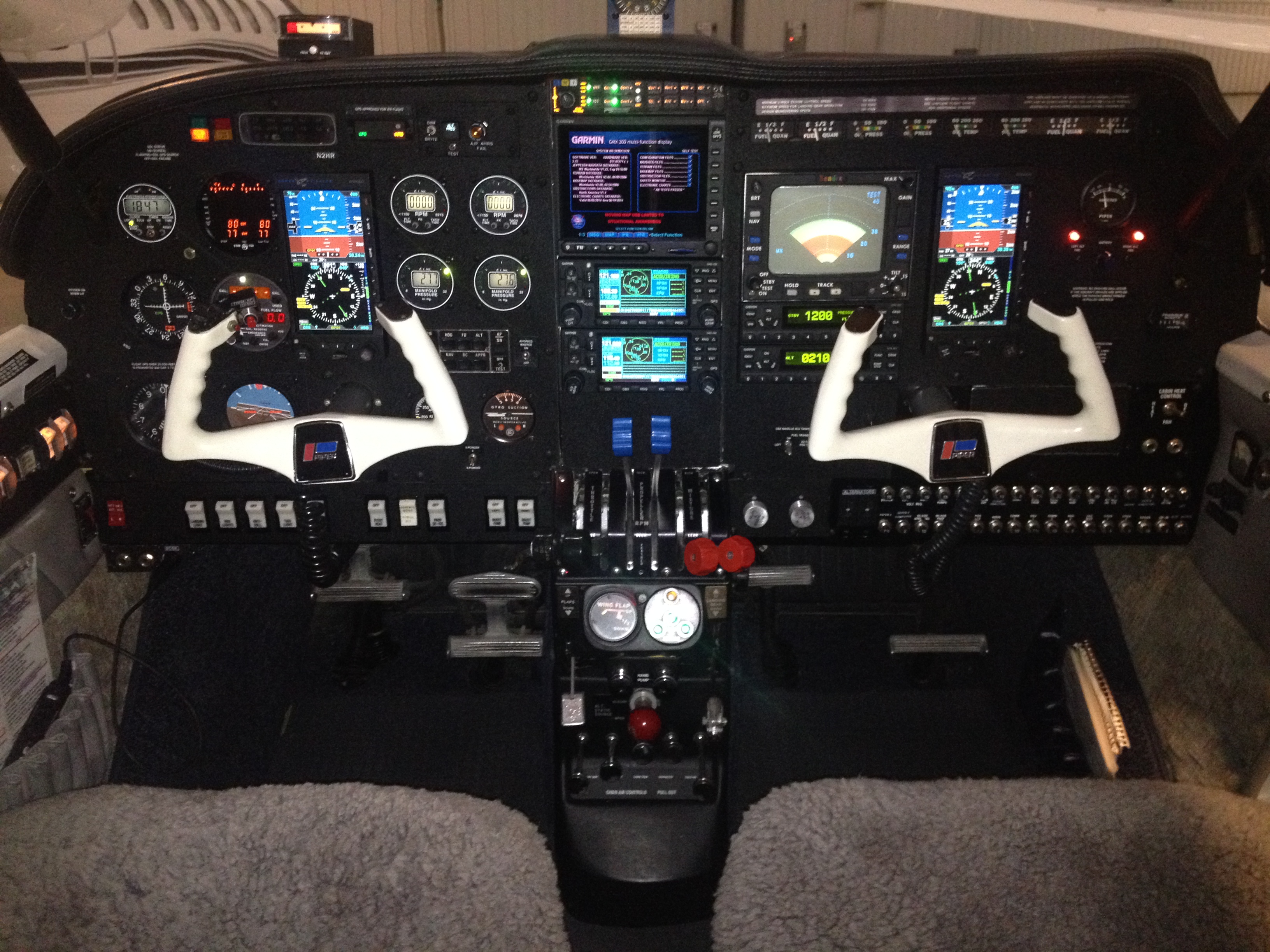 Of course the panel is up to the standards of the rest of the aircraft with Dual Garmin 430W-WAAS certified GPS units, Garmin multi function display with terrain avoidance and Garmin ADSB that displays data linked traffic and weather (Free-with no XM subscription), Dual Garmin transponders and dual Aspen primary displays with Flight Director and HSI functions from KFC200 auto pilot computer. The digital tachometers, manifold pressures, fuel flows and graphic engine monitoring system are all in the pilot side panel as are the electric standby artificial horizon, altimeter and airspeed indicator. This panel layout was done by the owner and his professional pilot whom both routinely fly in all weather conditions.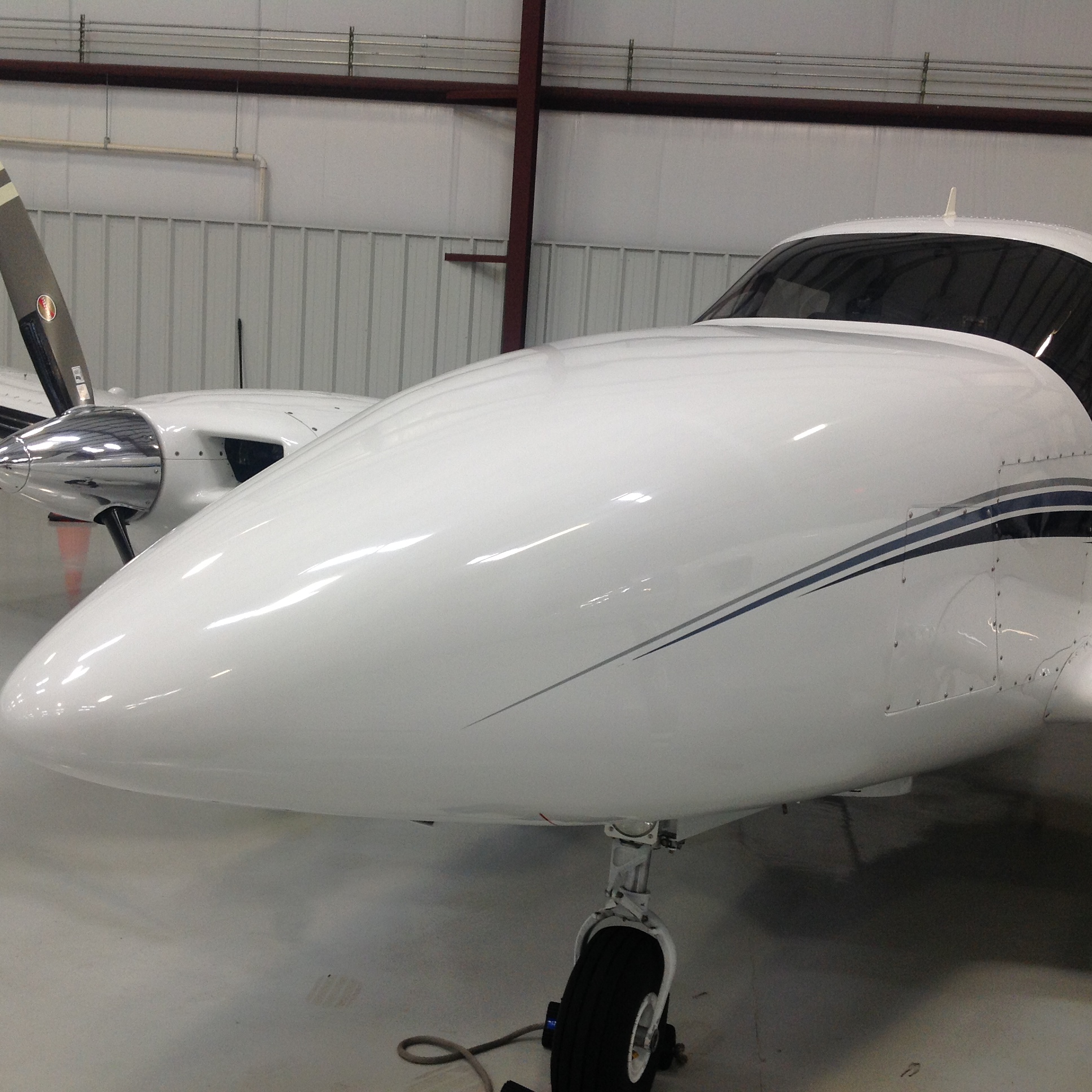 The nose skin laps have all been faired and all button head rivets have been replaced with flush rivets. It is details like this that have caused experienced line service personnel to make comments like " Wow-when did they start making the Aztec again?"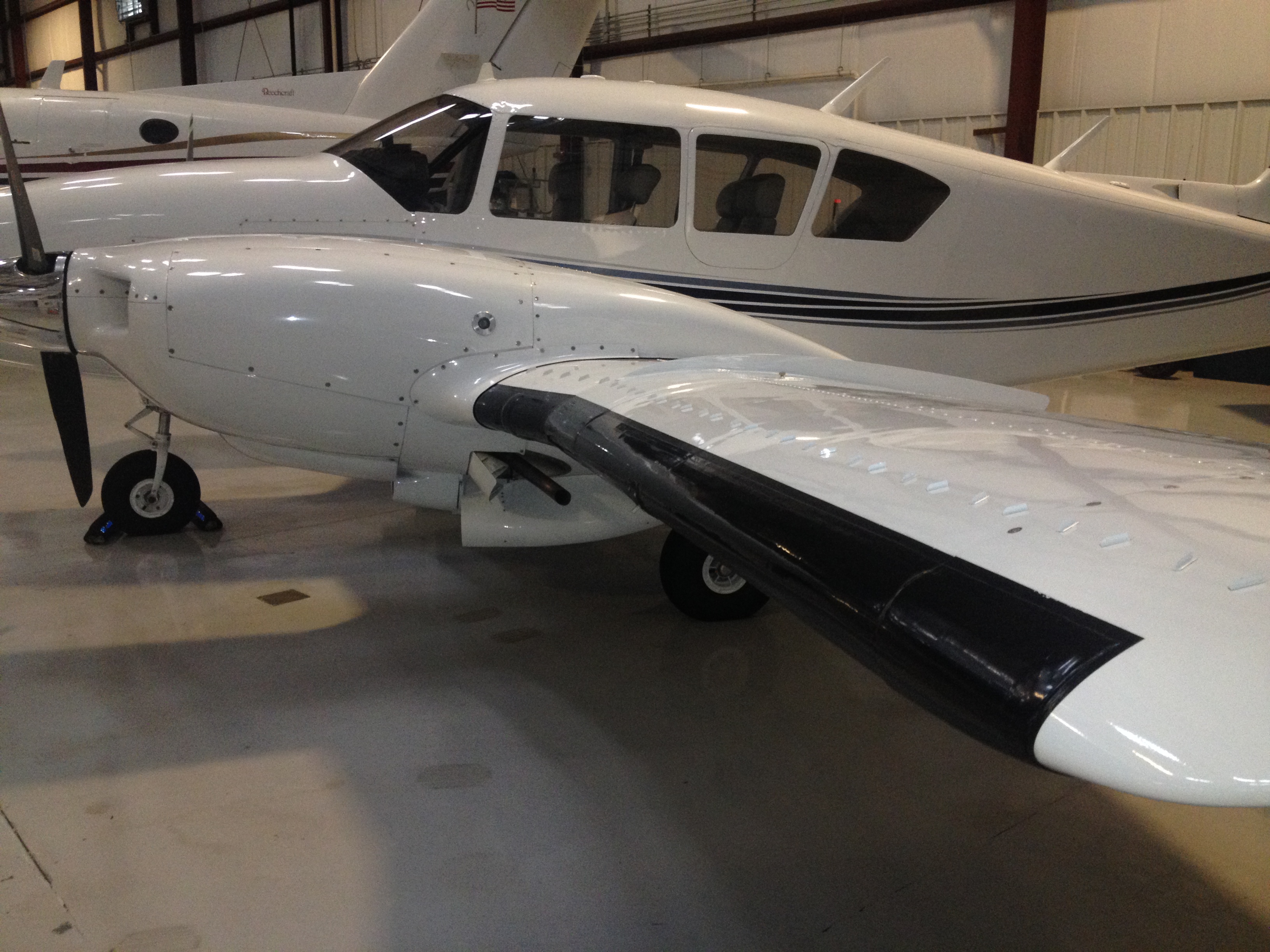 The aircraft was flown to Akron Ohio to have all new boots professionally installed and tested by BF Goodrich at the factory. They shine like everything else on this aircraft.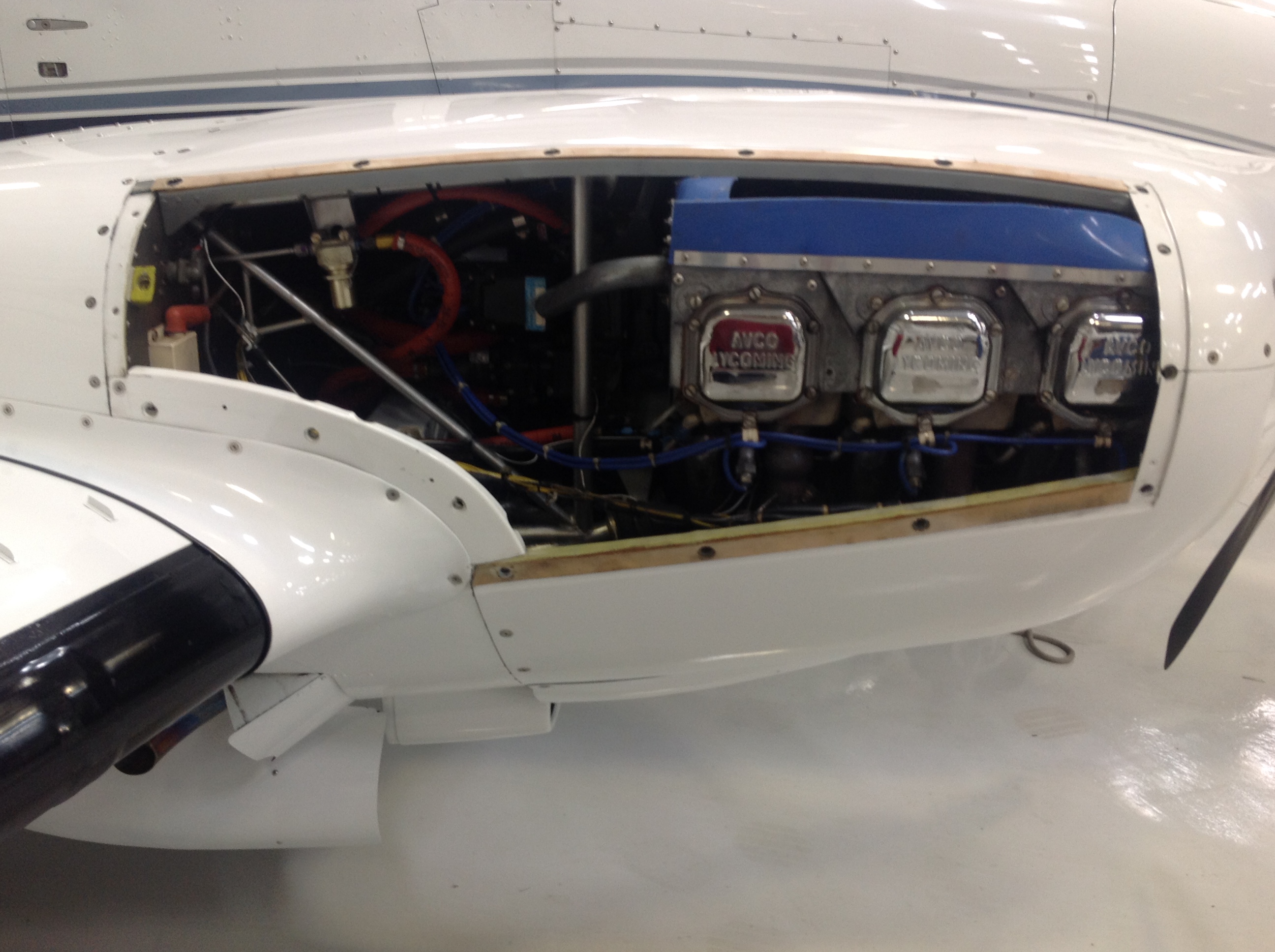 The engines were overhauled by Dick Demars Aero LTD and the cylinders were flow matched by Barrett performance. They were first run factory engines that had never been overhauled. The cylinders are steel .010" oversized. Compressions are excellent with very low oil consumption. All hoses were replaced and all baffles are ceramic coated with new high temp custom fitted blue silicone seals.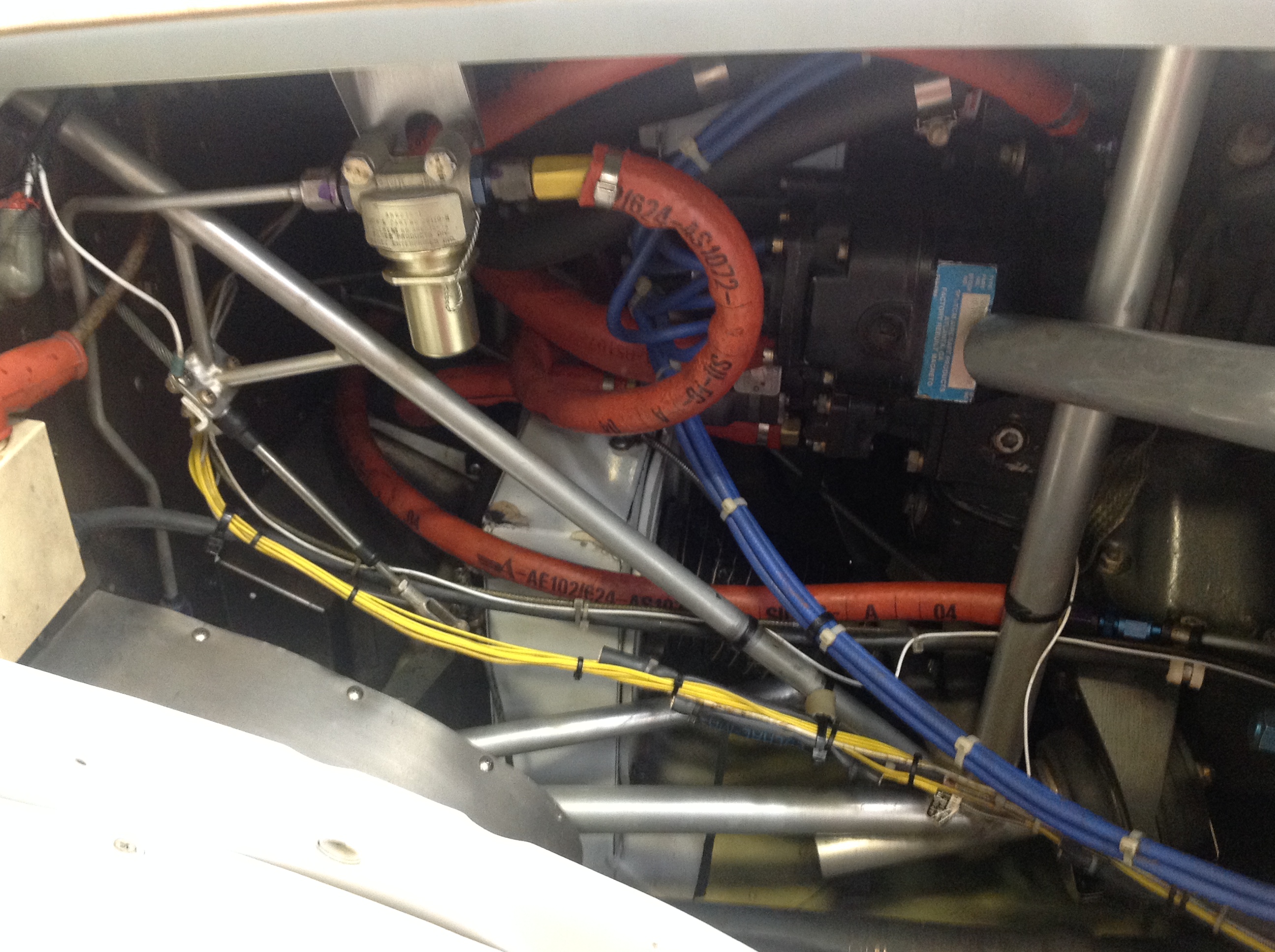 The inside of the cowls are painted with epoxy primer and the engine mounts are the late style "X" braced with no recurring AD notes. The dual engine driven hydraulic pumps allow for use of gear and flaps in the event that either engine fails, without having to use the back up hand pump. It also decreases the gear and flap cycle times.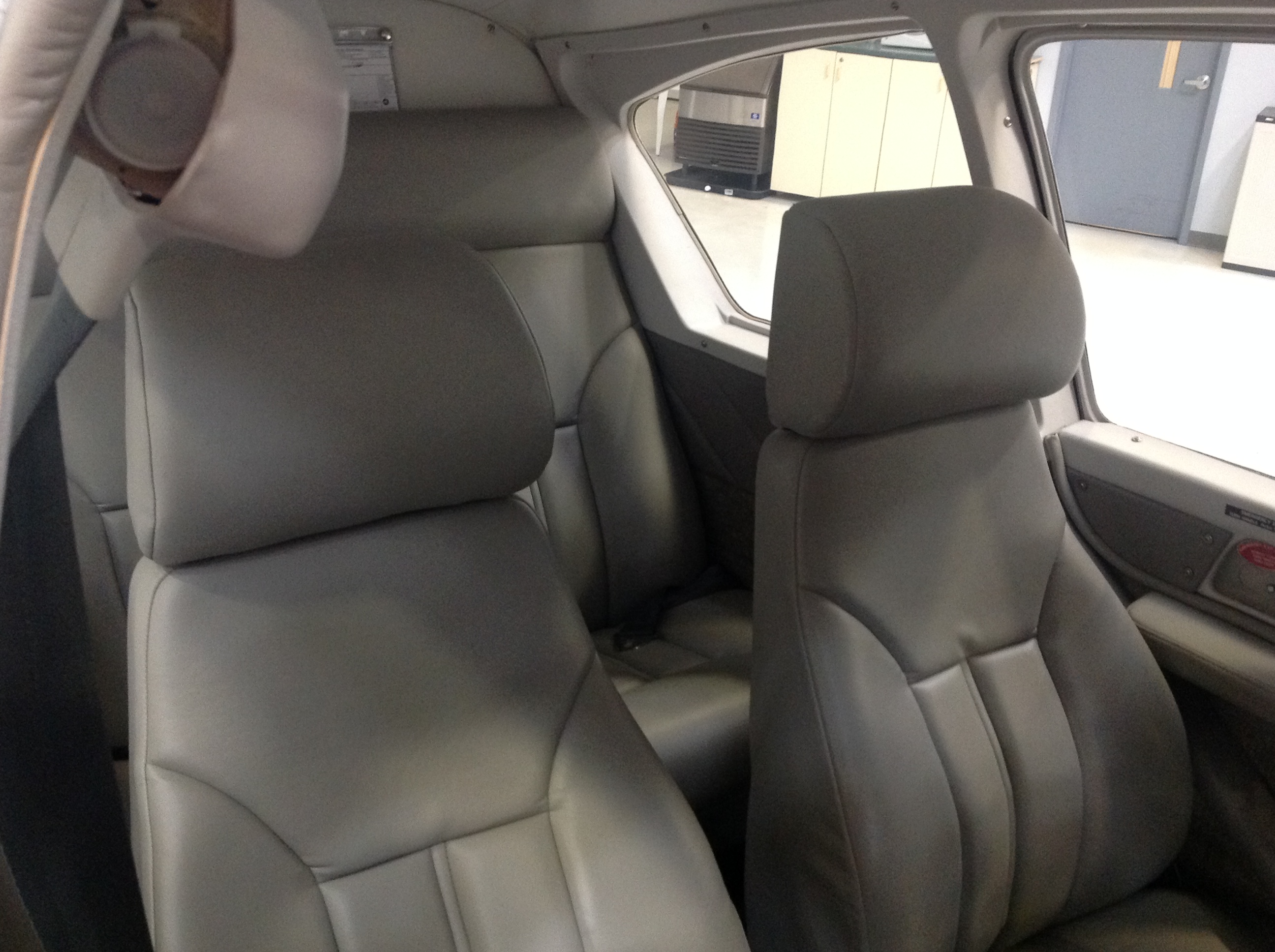 The interior is like new with side bolstered seats covered in high grade gray leather. All window frames and interior plastics are new as are the wool carpeting and seat belt webbings. Cabin and both baggage door seals are like new.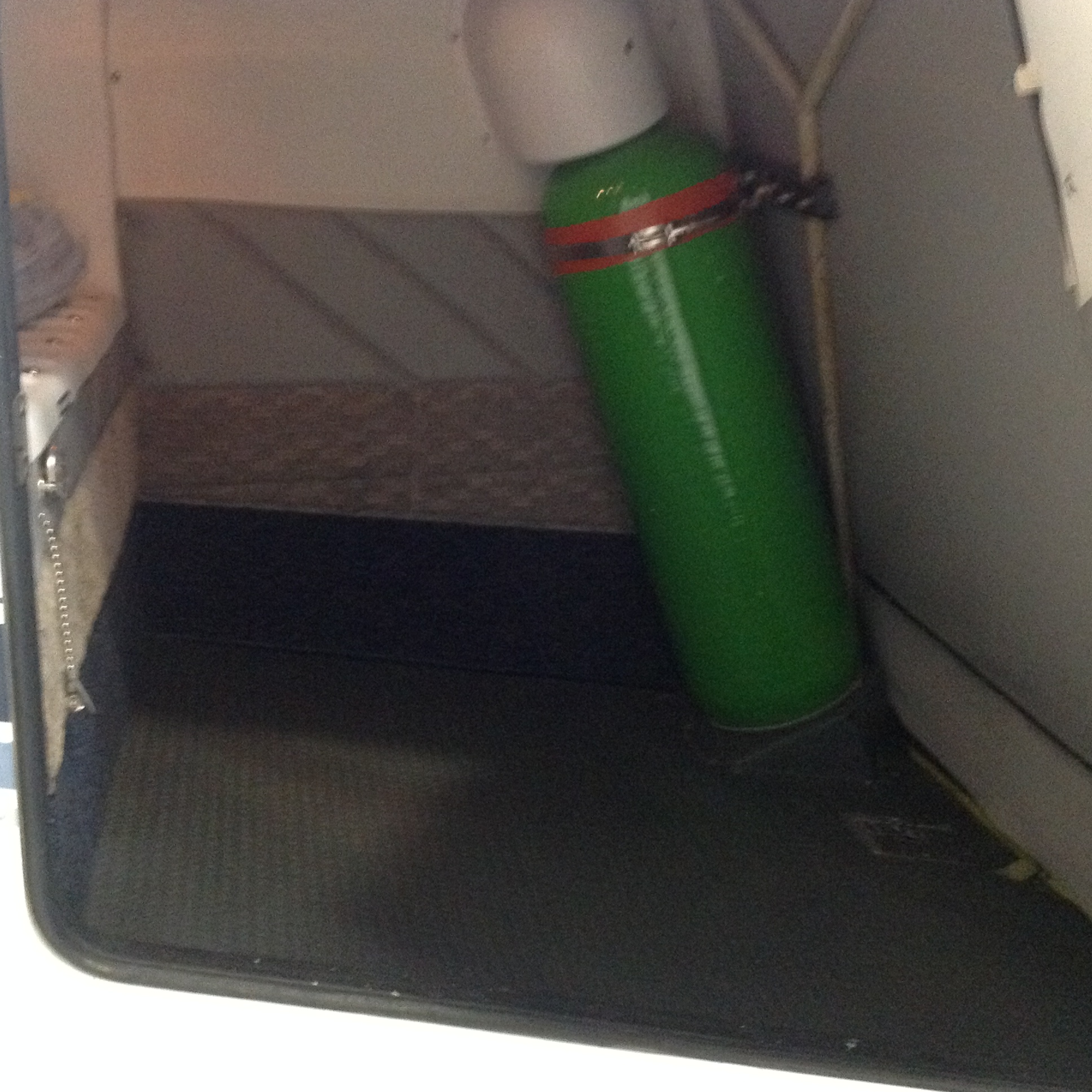 Large 25 cubic ft aft baggage compartment with 150 lb capacity. New composite bottle Aerox high capacity 6 place oxygen system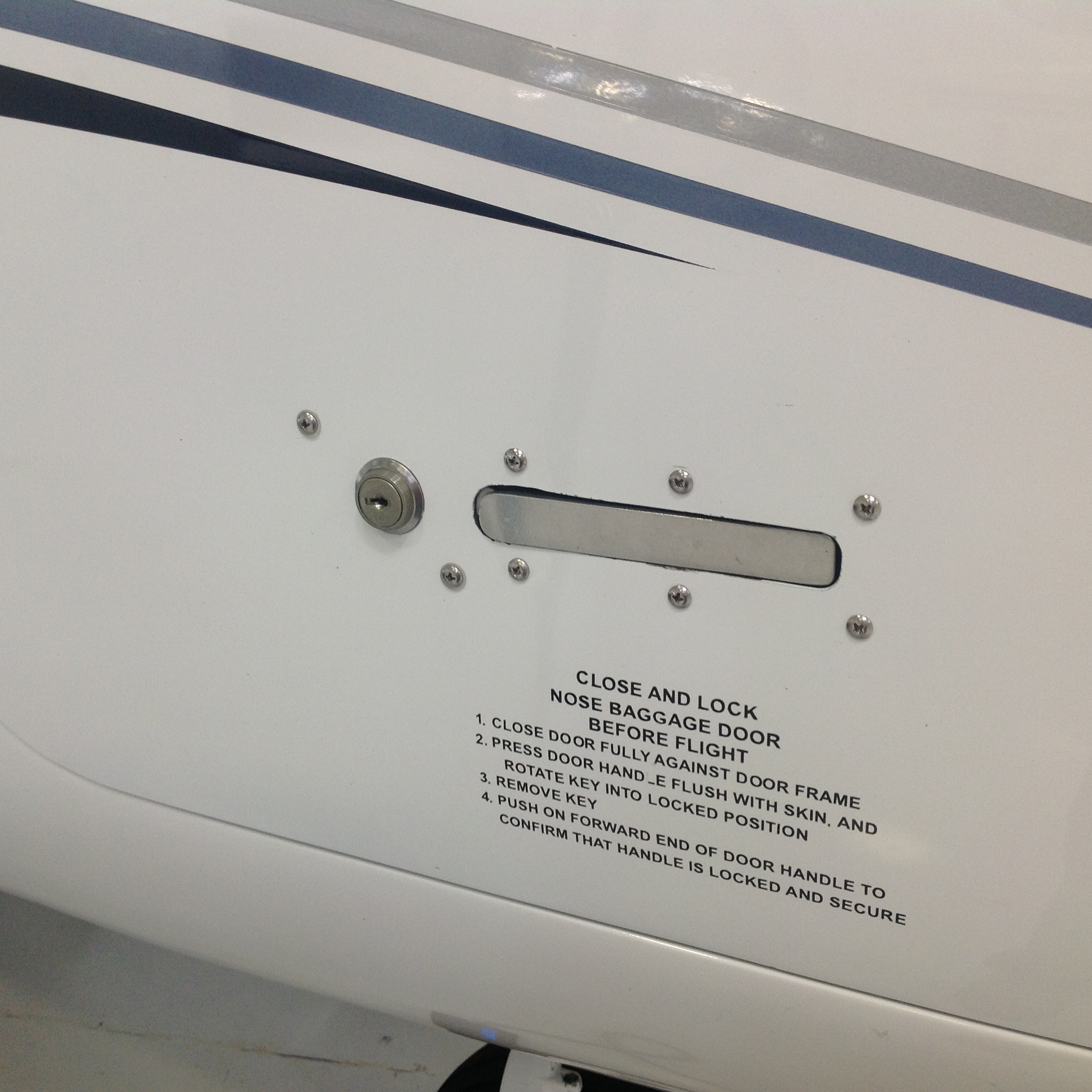 Large 20 cubic ft nose baggage compartment with 150 lb capacity is same distance forward of CG as rear baggage compartment is aft of CG making it easy to balance load. Comes with factory folding hand tow bar and jumper cables with APU plug.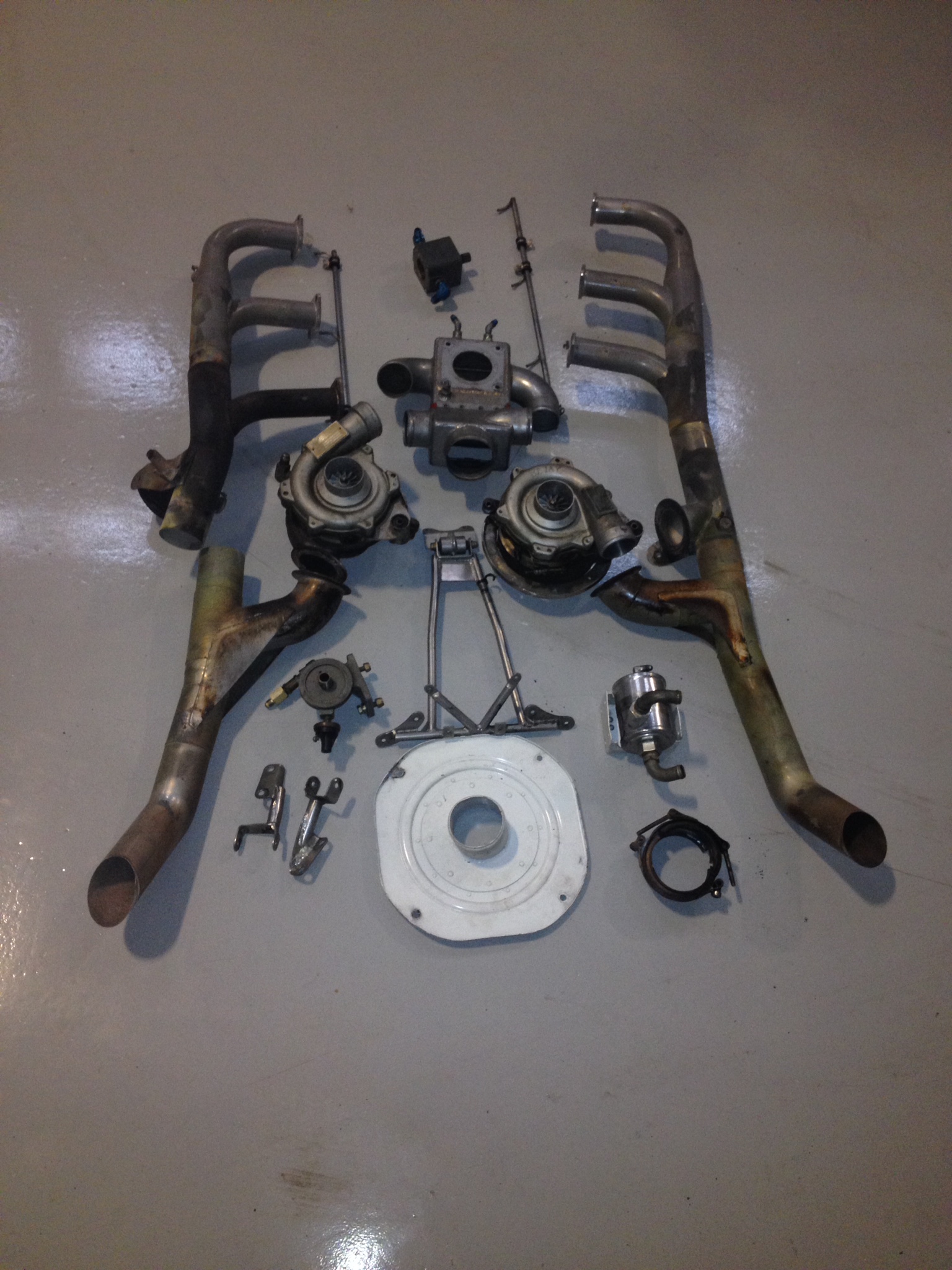 The current owner has removed the complete turbo-normalizer system as his typical flight profile did not require them. The systems are included with the sale of the aircraft and could be reinstalled after replacing the bearings and seals in the turbos. The currently installed complete exhaust systems and induction air boxes were installed factory new and have less than 100 hrs on them.*
* A note about this Turbo-normalizer system.
-This system is controlled by vernier cables attached to manual waste gates. Power is restricted to 30" of manifold pressure. System will provide 75% power at much higher altitudes to obtain higher cruise speeds. It is capable of providing sea level take off power at high density altitude airports. It could also be used in an emergency to obtain higher than rated power for a short period of time. It works very well for take offs but does cause higher cylinder head temps in cruise. The owner did not utilize them very much for that reason. I explored fitting modified dual inter coolers from a Mirage or Cirrus with NACA inlets in the bottom cowls. It is my opinion that it could be done and approved with a one time STC or field approval. When this system was designed, engine and cylinder overhauls were much cheaper and inter coolers were not common place. It is the owners opinion that they should have inter coolers fitted if the system is reinstalled. I would be happy to share my ideas on how to fit them. I have had customers that operated aircraft with this system installed (without inter coolers) report cruise speeds of up to 200 knots.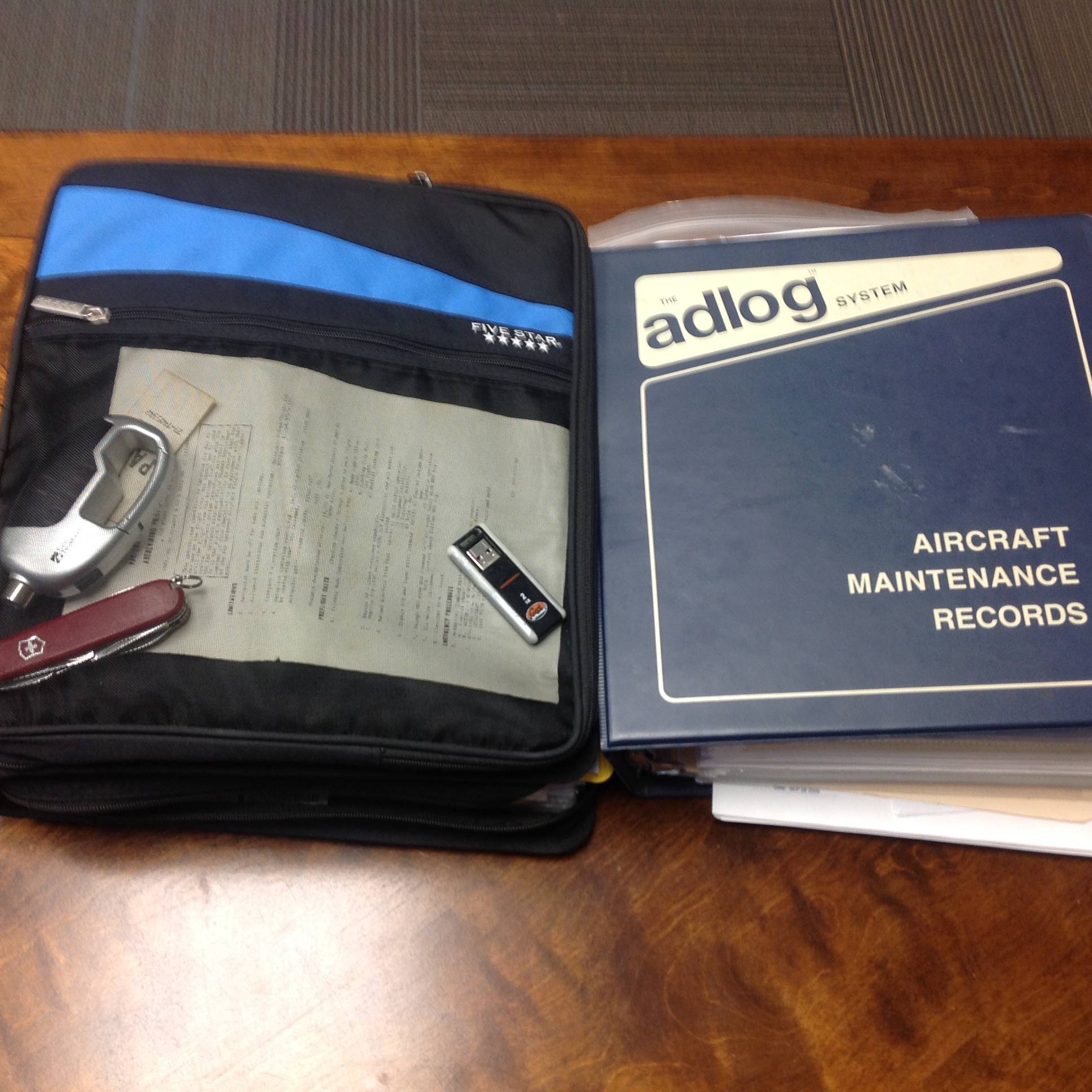 Logs and flight manual are excellent with all required supplements, continued airworthiness documents and airworthiness directives all well organized in an Adlog system book with all STCs, field approvals, 337s, current weight and balance and STCs and ADs also on file in it. The Zip drive in the flight manual jacket has the complete IPC and maintenance manuals stored to carry in aircraft. Of course you get the swiss army knife too as that is all you need to take the engine cowlings off.
Click here to view airframe logs
Click here to view engine logs
Click here to view prop logs
Click here to view Avionics logs
Click here to view current weight and balance
Click here to view STCs
Click here to view FAA form 337s
Click here to view current title search
Call Norman Earle at 386-689-0244 or email at earleac@aol.com for questions or to schedule a viewing.
ALSO AVAILABLE:
PRISTINE 550 POWERED NOGLE & BLACK RESTORED BEECH T34A
Click here to view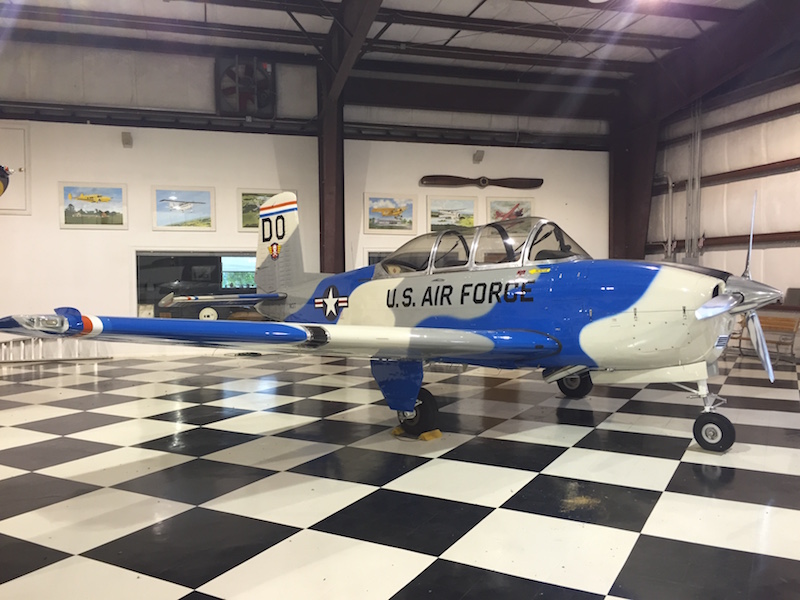 100HR SINCE NEW 100TH CLASSIC WACO BUILT TO COMMEMORATE 100 YEARS OF FLIGHT
Click here to view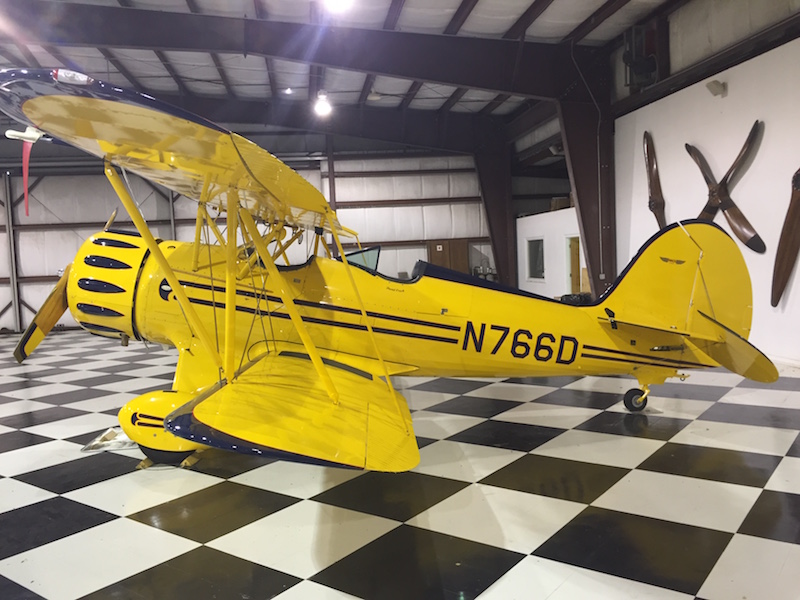 Czechmate N1NF Single engine six place turboprop experimental aircraft project with tooling
Click here to view