SOLD
BEECHCRAFT T34A MENTOR
N13T SERIAL #G-79
COMPLETE RESTORATION & IO-550 CONVERSION BY NOGLE AND BLACK AVIATION
Price:
$337,000
SOLD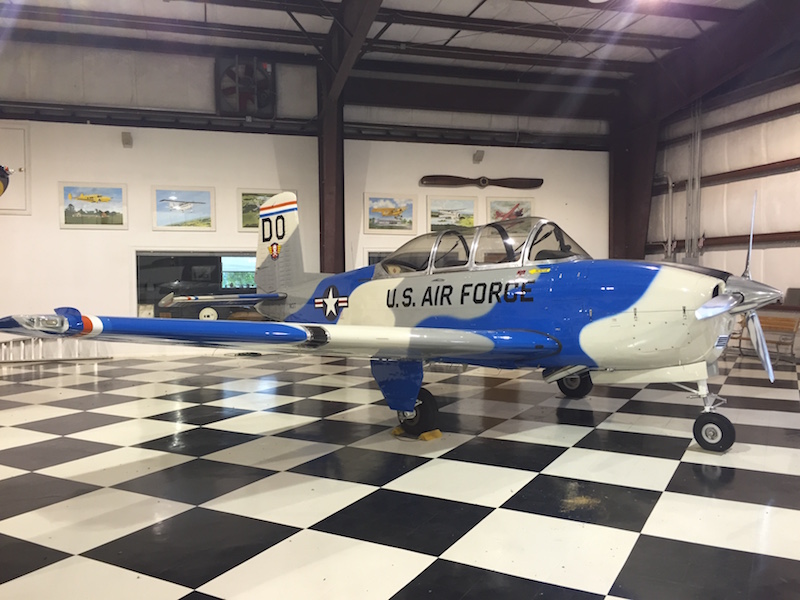 Description:
This pristine aircraft has been part of the David Oreck collection for 20 years. It has undergone a complete restoration and has had very meticulous maintenance since.
Scroll Down for more pics, specs and logs.
Specs:
| | |
| --- | --- |
| AIRFRAME TTSN | 6912 hrs. |
| IO-550 B (4) ENGINE TTS Factory Reman | 924 hrs. |
| MCCAULEY D3A32C 409C PROPELLER TTSN | 865 hrs. |
Avionics
Front cockpit: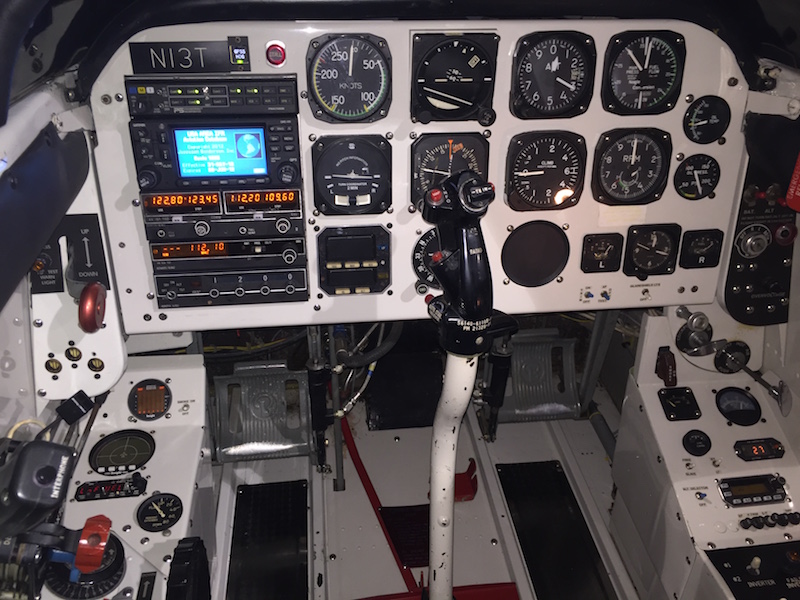 Garmin GNS 430 GPS/NAV/COM w/map driving Sperry C14 HSI
King KX155 w/GS and KI209 indicator
King KN62A DME
King KT76A Transponder
PS Engineering PMA7000B Audio Panel w/intercom
Insight Strike Finder
S-Tech System 60-2 coupled auto pilot w/altitude preselect
Insight Graphic Engine Monitor
Shadin Miniflo Fuel Totalizer
Davtron digital OAT
Aft cockpit: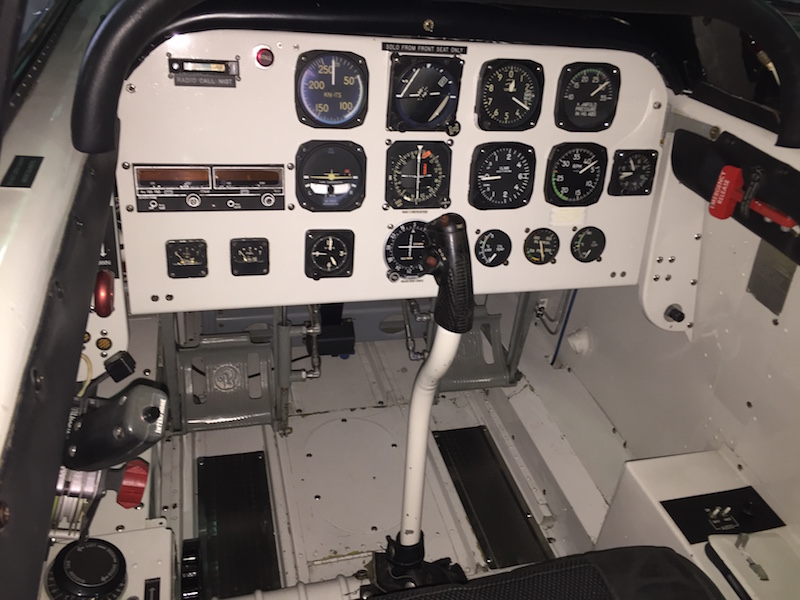 King KX155 w/GS and KI209 indicator
Marker beacon indicator
Modifications
-IO-550 engine Conversion
-McCauley 3 blade prop
-Aviadesigns Fail Safe Spar Strap
-Smoke System
-Heavy duty Cleveland wheels and brakes
-Brackett Air Filter
This IO-550 B(4) has heavy engine case with seventh stud. Note the details and workmanship in the engine compartment. This is the more desirable "non canted" engine mount conversion.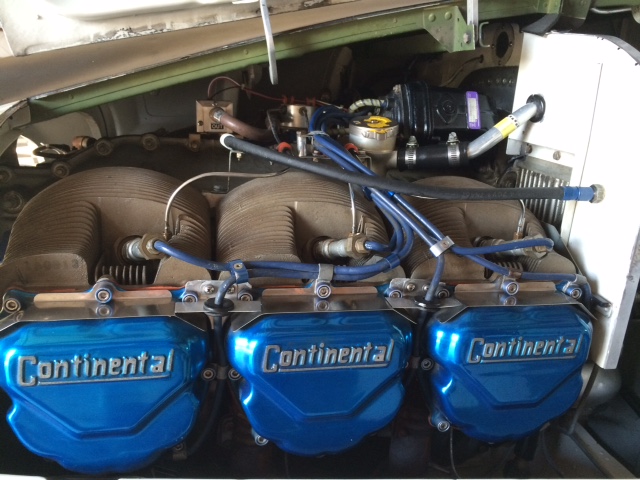 Advantages/differences regarding A/B models:
This aircraft is an EX US Air Force "A" model. Prior to it's extensive restoration by Charlie Nogle it was an Air Force Aero Club aircraft based in Colorado.
The A model has selectable "left" and "Right" fuel tanks unlike the Navy "B" model that transfers fuel from both wings to a center fuselage tank. The "B" system has proven to be troublesome and many convert to this system.
Only the A model is certified in the "ACROBATIC CATEGORY"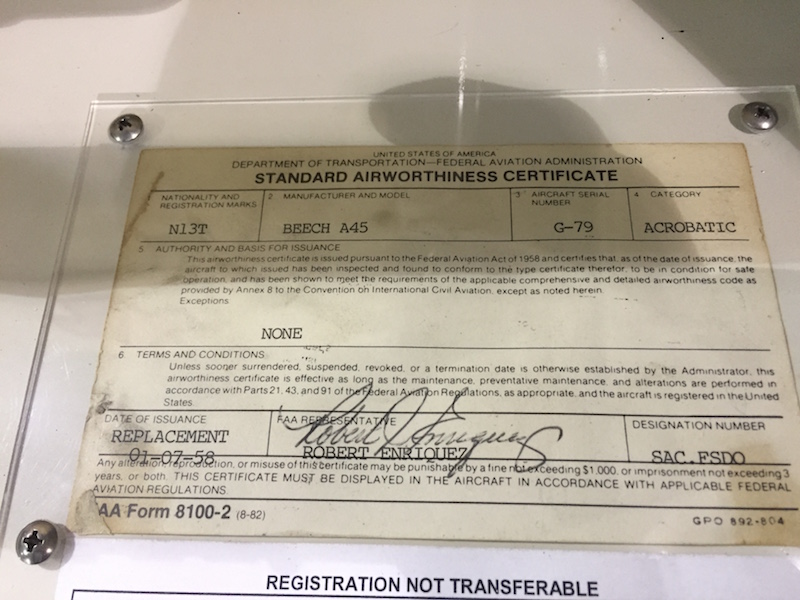 Only the A model has a steerable nose wheel.
Only the A model has vertically adjustable seats.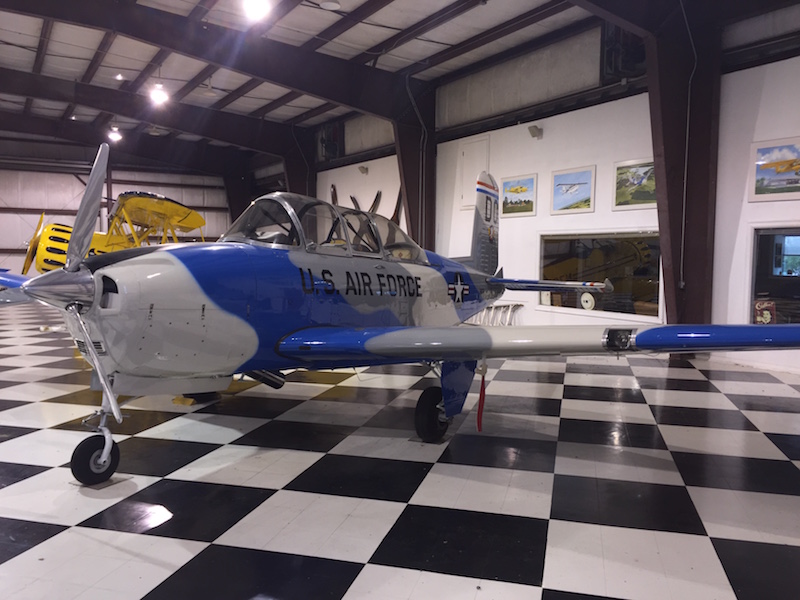 This aircraft has always been hangared here and maintained in "flight ready-squawk free status"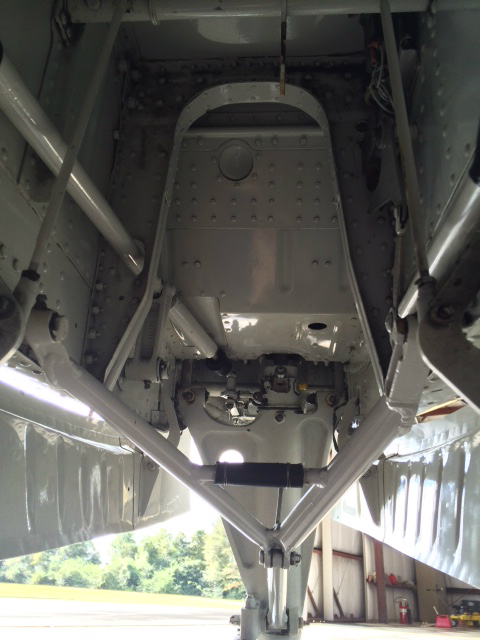 The wheel wells always tell the story of how well an aircraft is maintained and indicate the scope of the restoration.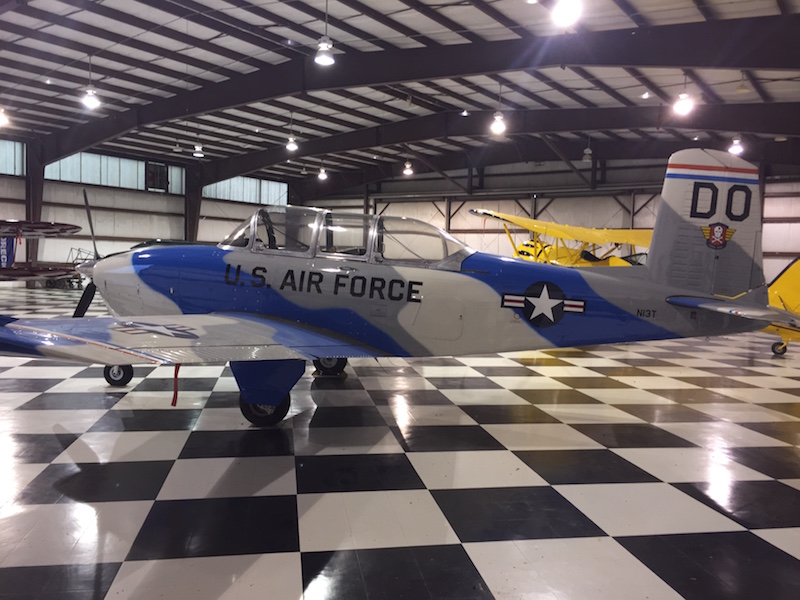 Comes with Complete logs and maintenance manuals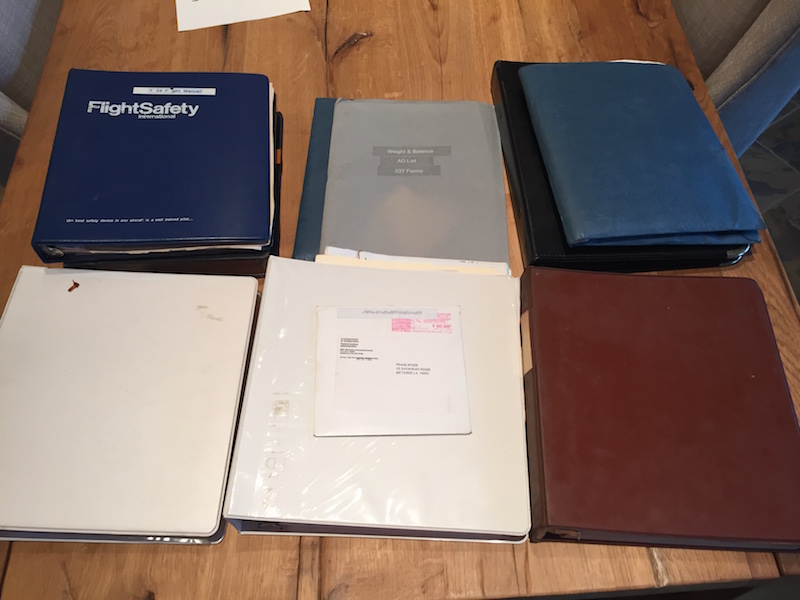 Click here for pertinent log book information
The aircraft is currently undergoing annual inspection at renown T34 shop, Baker Aviation, in New Smyrna Beach Fl.
Call Norman Earle at 386-689-0244 or email at earleac@aol.com for questions or to schedule a viewing.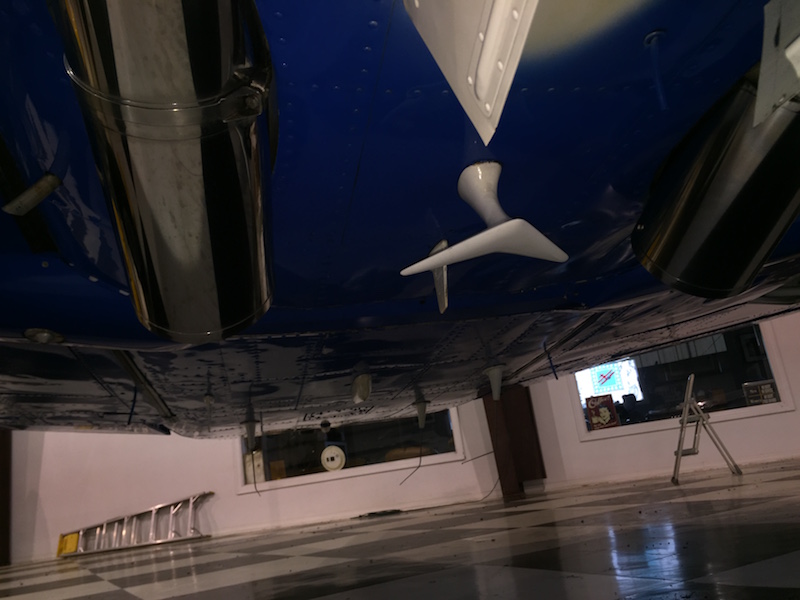 THE T34 SPAR A.D.
There are several different FAA approved "Alternate Means of Compliance" that return the T34 to flight status. The Aviadesign fail safe "Saunders Strap" is the only one that gives structural redundancy to the main wing spars, main wing attach bolts, main wing attach bolt "bath tub" fittings on the wing and fuselage and to the main spar center section carry through structure.
Click on this link
https://www.aopa.org/advocacy/advocacy-briefs/regulatory-brief-t-34-wing-spar-issue
to see The AOPA summary of this Airworthiness Directive. Note that only the Saunders Strap returns the aircraft to it's original flight envelope airspeeds and G load limits.
You can see the external strap in this photo. It extends across the center section and fans out (flush riveted out the bottom of the wing panels).
The same basic design has been around for years and is used on Beech 18s, King Airs and many other aircraft. It virtually eliminates wing structure fatigue issues.
Important considerations for the discriminating shopper to consider when comparing the pedigree of "13 Tango" to other T34s:
-This "non canted" reliable 300HP factory reman IO-550 engine conversion is the best engine choice for performance, aesthetics and reliability.
-This Acrobatic Category "A" is the most desirable model.
-This aircraft has been restored to "Oshkosh Winner" standards by renown, highly respected, established T-34 experts that hold multiple STCs.
-All flight controls have been recently overhauled and are perfect.
-Meticulously operated, stored and maintained.
-No corrosion or damage history
-Excellent records.
-Fail safe "Saunders Strap" gives more structural redundancy than all other AD compliance options and does not restrict operational envelope.
-Excellent avionics / autopilot
-Very low total time "Prime Condition Aircraft" with all the right stuff!
ALSO AVAILABLE:
100HR SINCE NEW 100TH CLASSIC WACO BUILT TO COMMEMORATE 100 YEARS OF FLIGHT
Click here to view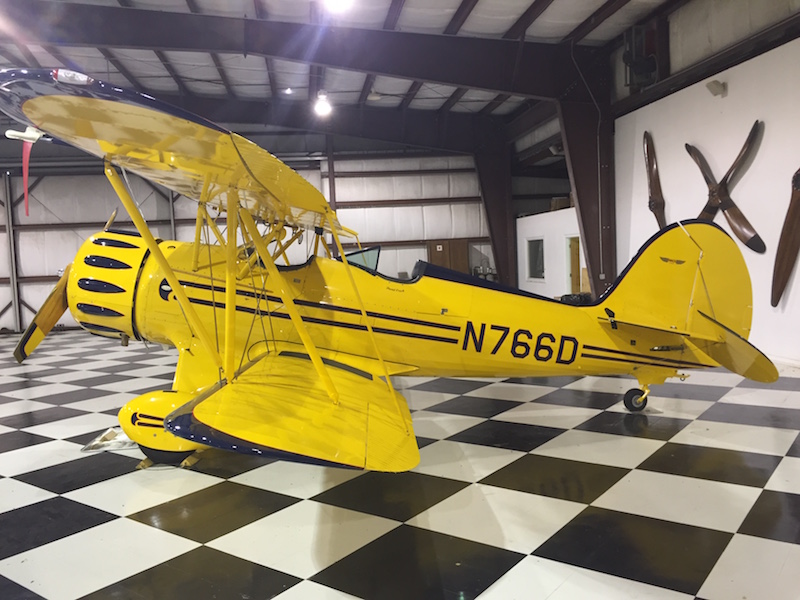 Also available! Oshkosh Grand Champion Super G17S Staggerwing w/WWII History
Click here to view